Hello,
I own DxO PL5 and have been experimenting with the trial version of the new PL6, and in particular the new DeepPrime XD noise reduction. I think that with one of the cameras I have tested (Pentax K-3 mark 3), it may not behave "as intended". I will post a few examples in the following. I have taken two similar images at ISO12800 with two different cameras to showcase a general behavior that I am seeing at high (>=1600) ISO with this camera, although it is less noticeable closer to this threshold.
This is shot with a Fuji XF10, 24MP APS-C sensor (non X-trans). Images are named with a suffix contaning the settings, the first number is the master (luminance) slider, if there is a second number I refer to the "noise model" slider that is new in DPL6.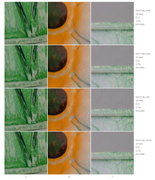 As you can see at the default luminance of 40, DeepPrimeXD produces the same level or slightly less grain in the blurred areas with no artifacts, and preserves even more detail where there is any.
Most importantly, there is a strong dependence of the residual noise on the luminance value, from 0 to 100 (last two pictures) I am clearly exploring the trade-off between detail preservation and removal of grain. The following is a similar shot taken with Pentax K-3iii:
On the contrary with the K-3iii at high iso at L40, DeepPrime XD produces way more grain in the out-of-focus areas, and there is almost no difference in going from 0 to 100 with the luminance slider; this seems rather abnormal to me as it is unlike any other cameras.
Using the new "noise model" slider with negative values I can obtain results similar to DeepPrime (last picture) but more often than not this introduces an unnatural look in the out-of-focus areas (artifacts) and does not significantly improve detail retention with respect to DeepPrime.
Even keeping the "noise model" slider at negative values, there is very little sensitivity to the "luminance" slider for DeepPrimeXD. This is unlike the other cameras that I have tried.
As an additional example, the following is a comparison from a studio test shot available online at iso 25800 with the Pentax KP, that is a "similar" camera in the sense that it features pretty aggressive in-camera raw noise reduction that cannot be disabled, just like the K-3iii. However, DeepPrime XD seems to work very very well, just like with the Fuji; less grain, more detail, and strong sensitivity to the luminance slider, as expected. I would think that similar results could be expected from the K-3iii.
(Unfortunately I was unable to find a RAW studio scene from the same source for better comparison).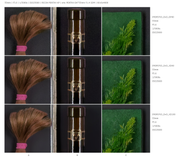 As a side note, I have tested the last 6.0.1 update and I saw no changes to this particular issue.
Thanks in advance if you can provide any feedback.